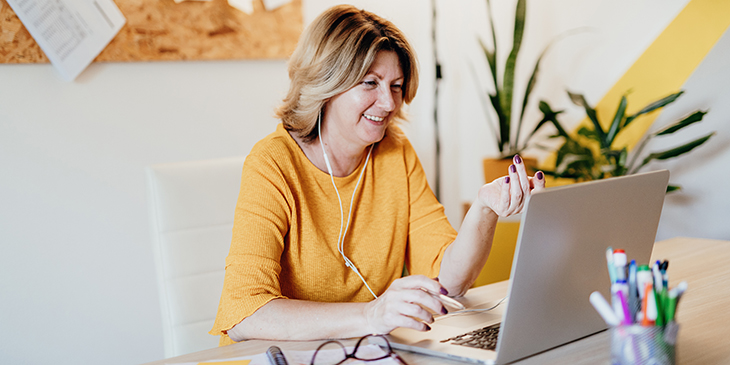 Learning English lessons online from your home without going to school is not a new idea: in the old days, the rich hired governesses and nannies for their children. These were foreigners who lived in a house and taught the children their mother language in their daily communication. It was very effective then, but today it is very expensive and a little inconvenient.
A modern alternative is a typical language school, but it is no longer accessible to everyone, especially if there is a native speaker (foreigner).
Fortunately, there are different options.
Today there is the Internet and online courses. In this article, we will talk about such an opportunity as distance learning English. Read about English Online Home Learning against the classroom. Which one will win?
Advantages of english Lessons online courses
study the language with the help of a native speaker;
different learning activities (conversation, listening, writing / reading)
simultaneous development of lexical, grammatical and phonetic skills
to return to the previous topic you missed or did not learn
At Let's Speak Together, the growing demand for distance education has led us to increase the number of high-quality online courses we have created, so you have the opportunity to take online courses any day and time that is always convenient in consultation with your teacher.
It may seem strange, but the major benefits of distance learning English should include a personal approach to each student:
First, the student starts with a free lesson. Completes a special test that will allow the teacher to determine the level of knowledge he has accurately.
Second, the transition to the next lesson takes place only after the student has reached the previous level, which is also confirmed by passing the tests in each lesson.
But one of the main disadvantages is motivation because not everyone is able to self-organize, especially children. At let's speak Together the teachers have been trained to teach in such a way that the lesson is fun and at the same time productive for the student himself regardless of age.
English for Beginners in Electronic Format: Is It Possible?
Online English lessons are a really powerful tool for a motivated student with many benefits and amenities. At the same time, real success is not easy to achieve and the online course needs to be expanded with a variety of home training techniques – such as:
watching movies (first with subtitles, later without), listening to songs.
different types of reading.
writing various types of texts, including essays with reasoning on abstract topics.
accessible communication in English.
Thus, a motivated student, who is organized and has free time, can learn English from the beginning by choosing a good online course like this. Another question is at what level can he learn the language because talking about everyday subjects and watching movies is different from putting distance education into practice, entering, for example, a higher education institution in England. Read 18 tips for advanced examinees!
English as a second mother tongue! Yes, it is possible!
Distance education has become an important and very useful part of the life of modern society and has gained special importance in the context of Covid's limitations, but the correct evaluation of the online school we will choose must be done. We do not want to waste time and money to learn English properly and of course, we must learn from the best tutors.
The opportunity to learn to speak English, combined with obtaining an international diploma at the end of the course, provides an excellent opportunity for further study abroad – a result that is almost impossible to achieve otherwise so cheaply and in the time that suits us.
Epilogue
As we said above, we can now learn English easily, quickly, and without a lot of money. We choose the right course package according to our needs and knowledge, our teacher guides us and in a short time, we speak and write English like an Englishman/Englishwoman.